welcome to
merklands wood luxury lodges
Edinburgh City centre 30 minutes
Each with 3 bedrooms / 6 Guests
welcome to
merklands wood luxury lodges
Environmentally friendly, luxury, self-catering holiday accommodation
Situated in 20 acres of mixed woodland Merklands Wood luxury lodges are a paradise for lovers of wildlife and nature. Perfectly located for exploring the beautiful Scottish Borders yet only 30 minutes from Edinburgh City Centre. Excellent as a base for exploring further afield; Glasgow, Loch Lomond, the West Coast or the Highlands,
Secluded in 20 acres of private woodland, which you will share with a small herd of roe deer that live there. Luxuriously appointed, the furniture, fittings and decoration were conceived by one of Scotland's finest Interior Designers. Each with hot tubs and log burning stoves.
The Lodges only use energy from renewable sources and even the fuel for the log stoves is from our own sustainable woodland. As a commitment to the environment, we will plant a tree for every booking made (guests can plant their own tree in season) and spend a minimum of 20 % of our profit on conservation projects. Currently we support and participate in the captive breeding programme part of the Saving Wildcats project
Walking, cycling and hiking straight from the door, which together with a sports and games field means there is plenty to keep pets, children and adults entertained. Visit Scotland lists over 750 things to see and do within a 30-mile radius including 6 of Scotland's UNESCO trail world heritage sights within a 45-minute drive.
Hot Tubs
Relax in your own private hot tub located on the veranda and take in the wonderful views of the pentland hills.
Bathroom
The en-suite bathroom has both a shower and bath. A full height towel rail, wc and basin
Kitchen
The luxury fittted kitchen includes tea / coffee making facilities, a toaster, all kitchenware, dishwasher, microwave, refrigerator, freezer, condiments (salt,pepper & oil) stove, double oven, grill and stove
Main Bedroom
The main bedroom has a luxurious super king sized bed and an en-suite bathroom with walk-in shower, wc, basin and a luxurious tub.
Twin Bedroom
Apart from the main bedroom, each lodge has an additional bedroom with luxurious twin beds
Spectacular scenery right on the doorstep
Emily Williams
August 15, 2023.
We have stayed at the Merklands lodges twice now and we can't recommend it enough! From the moment you arrive you are greeted and welcomed to the lodge. The welcome basket is the BEST welcome basket we have ever received, filled with goodies! We can't wait to come back and stay again, perfect for romantic getaways and family holidays! Thank you so much for making our stay so enjoyable!
Tanks Mum
March 14, 2023.
This is second visit and decided to bring my dog, Craig & Louise think of everything from the welcome hamper and a welcome pack for Tank . It is so peaceful and sitting in hot tub at night listening to the animal sounds amazing. Would definitely recommend this wonderful relaxing place to just chill and forget about everything.
Jacqueline Porter
February 20, 2023.
The lodge is set in beautiful surroundings. There is a private activity field for children and dogs, play tunnels, trampoline, football table, table tennis table and more. It was so peaceful in the evenings just relaxing on the veranda in the hot tub. There is a gas BBQ and picnic benches below the cabin. Two super king size bedrooms, one was ensuite and a separate bedroom with 2 single beds and a family bathroom. Wood burning stove to be cosy by in the evenings. Kitchen had everything we needed, fridge, freezer, microwave, double oven hob, dishes and there was some wonderful touches like their own ground coffee and bottles of gin not to mention the wonderful dog treat bags. If you are used to a memory foam mattress the ones here may take a bit of getting used to as they were sprung mattresses. There was lots of very lovely little touches that made the whole trip very special. They have a high chair, travel cot, changing mat etc for the wee ones. There was even a cupboard with board games. If you are looking for a relaxing, peaceful getaway, this is the place to go. Not too far away from Edinburgh, beaches and forest parks and lots of lovely walks close by.
Andy Tasker
January 8, 2023.
Fantastic. Should have stayed longer! Everything from the warm welcome and the lovely welcome hamper (actually I'd go back just to scoff the hamper again) to the top notch facilities and area - superb weekend. Cabin is immaculate and has everything you could need / want. Equipped to a very high standard and an excellent space for a family. Perfect - not too bunched up, but not too far away from each other either if you want some peace and quiet! Even our cat was looked after with some nice treats and scratch posts left out for him! Wil be back!
Grace Grice
December 27, 2022.
I have no words from start to finish was perfect. Lovley welcome really clean, every thing you need. You get a lovely welcome humper i tried everything really nice jam. The hot tub was great loved looking out while relaxing. We went to see the cute little cat's. Plenty to do for kid's, we when to play on the trampoline and a game of football, table tennis on Christmas day and the dog's loved it too lot's for them to do. Would recommend a stay any time of the year, it's beautiful 10 out of 10 thank you for the stay.
Andrew Duffy
December 4, 2022.
An amazing lodge with stunning views and location, the owners are polite and helpful and the hamper is brilliant, the rooms are clean spacious and stunning and kitchen well stocked for our family of 5... We loved it so much we're returning in the Christmas holidays
Sam Hewitt
November 7, 2022.
We had the pleasure of staying in Aspen Lodge for 3 nights and what a perfect 3 nights it was! The lodge has everything you would need and more, from the comfort of the huge beds to the special touch of including a luxurious welcome hamper. The wood burner soon heats up the cabin and be sure to get out in the hot tub to watch the stars. Thank you Craig and Louise for the best weekend! We will soon be back.
True luxury. Lovely people too!
Michelle Moir
September 26, 2022.
We spent a lovely 3 days in Alder lodge. The lodge is immaculate and beautifully decorated, everything you need and the added bonus of a hot tub on a lovely covered deck that is lit up at night with fairy lights. We were left a basket of treats, gin, eggs from their chickens, freshly baked bread and butter. Even our dog received a bag of goodies! There were lots of games in the lodge for us to use which we played with each night. The location was great, lots of lovely walks where we could have our dog off the lead and lots of places to visit which they provided us with details of before we arrived. There is a dog agility course attached to the lodge which we used and a trampoline and outdoor games for kids. We got to meet the owners dog Lizzie and her 2 new pups and have a cuddle which we all enjoyed. They also let our son feed their chickens and showed us the wild cats which they keep as part of their wildlife sanctuary. It was really interesting listening to them talking about how they are trying to protect these animals. Overall a special place which we would love to return to.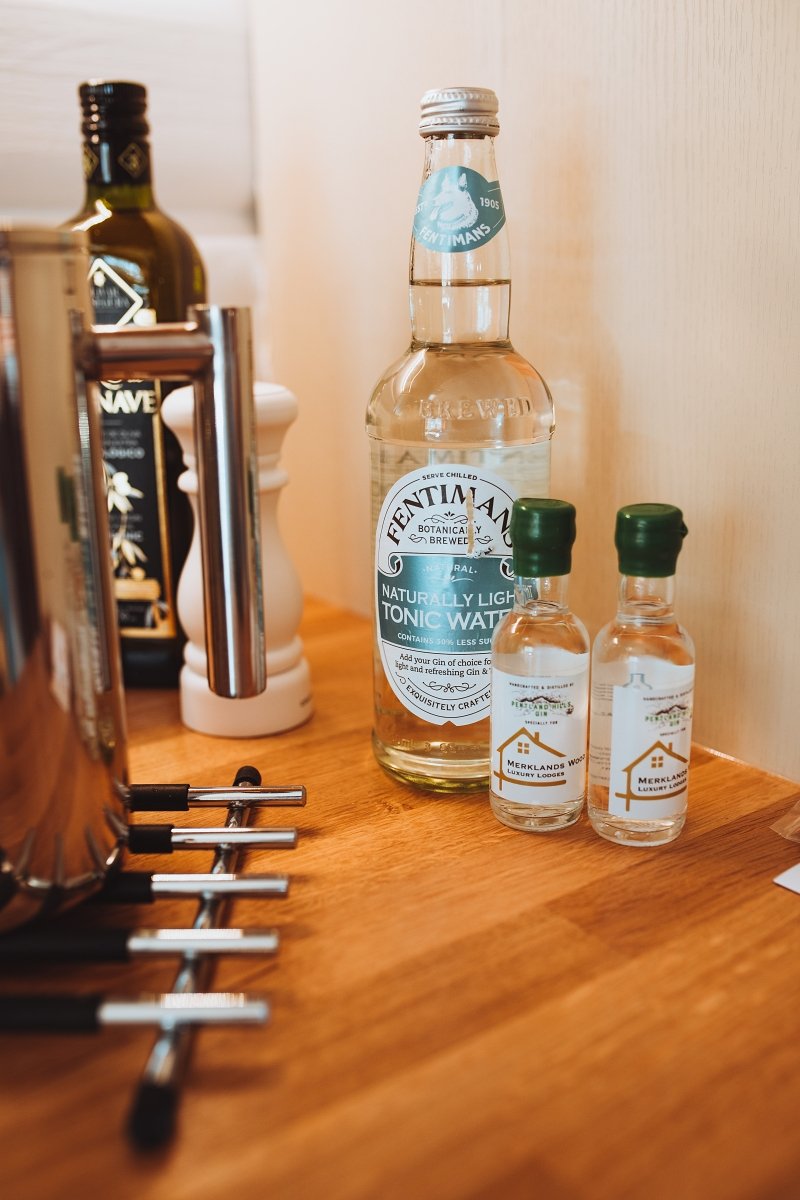 Visit Scotland in Style
The perfect getaway in the perfect location for enjoying nature. We couldn't believe we were only 30 minutes from Edinburgh city centre.